The Mazda MX-5 Miata has long been one of the most popular roadsters on the market, and few models have ever been able to fully compete with its outstanding combination of affordable price and excellent performance. Nonetheless, Mazda has the constant dedication to improve an all-new Mazda model that's now even more fun to drive.
On the face of it, the 2019 Mazda Miata looks almost identical to the previous year's model. Nonetheless, looks can be deceiving, and it's what's on the inside that really counts in this case. Therefore, let's take a closer look to see what makes the all-new 2019 Miata so special and such a blast to drive.
More Powerful Engine Equals Improved Performance
Probably the biggest reason that the 2019 Mazda Miata excels compared to previous versions is its more powerful engine. Both the soft-top MX-5 Miata roadster and the sportier MX-5 Miata RF feature a new and improved 2.0-liter SkyActiv engine, which is available in your choice of six-speed manual or six-speed automatic transmission. Either way, you will get to enjoy an impressive 184 horsepower engine with 151 pound-feet of torque.
Both of these numbers represent improvements over the 2018 Miata models. The 2019 Miata only has a nominal gain of three pound-feet of torque, which probably isn't enough for most drivers to notice a major difference. Nonetheless, you will most definitely notice an improvement in overall power since the 2019 model boasts a 26-horsepower improvement compared to the outgoing model. Combine this with its slightly lower overall weight and you'll quickly begin to see why critics and drivers alike are so impressed with the performance of the new Miata.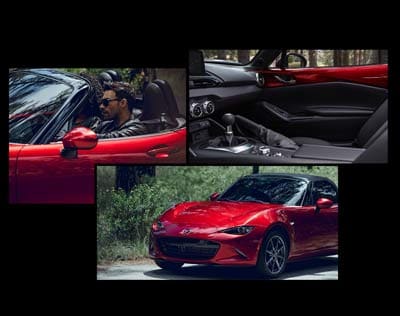 New and Improved Steering Column for Better Control and Handling
Another major improvement over the outgoing model is that the 2019 Miata now features a standard telescoping and tilt steering column. The lack of a tilt wheel or telescoping steering column was one common complaint about the older model, so this is another less thing you'll have to worry about. In addition, the new steering column is made from aluminum, which sheds valuable weight from the vehicle compared to the old steel column.
Better Fuel Efficiency So You Can Drive More for Less Money
You could be forgiven for thinking that the 2019 Miata and its more powerful engine would mean that it suffers slightly in terms of fuel efficiency. However, the fact that the new vehicle is lighter combined with its more efficient engine ensure that this is another issue you won't need to worry about. In fact, the 2019 Miata has a 1 mpg improvement in overall fuel efficiency compared to the previous version.
In term of overall fuel efficiency, the automatic transmission very slightly outperforms the manual transmission in highway and overall fuel estimates. In typical city conditions, both vehicles should get an estimated 26 miles per gallon. Still, the automatic version provides a slightly improved fuel-efficiency estimate of 35 miles per gallon on the highway compared to only 34 with the manual transmission.
Depending on which trim package you choose, the 2019 Miata can also include a number of additional features to further add to your fun, safety and convenience. Therefore, if you're interested in learning more about the brand-new Miata and what all it has to offer, don't hesitate to contact us or stop by our Mazda dealership.
** Based on 2019 EPA mileage ratings. Use for comparison purposes only. Your mileage will vary depending on how you drive and maintain your vehicle.