The Mazda CX-5 is a top pick for crossover lovers who want a vehicle that is safe for them and their families. This is one of the few vehicles on the market with a perfect safety rating. Mazda recently announced that the 2019 CX-5 is a Top Safety Pick because it received a perfect five-star rating from the Insurance Institute for Highway Safety (IIHS). If you want to learn more about how this crossover will keep you safe, you can keep reading and then come into our dealership for a test drive.
Front Crash Prevention
A front crash can occur because you took your foot off the brake pedal just a second too early. As your car rolls forward, you can strike the back of another vehicle, which will cause the airbags in your car to deploy. You also risk hitting objects such as a street sign or a mailbox during a frontal crash. The CX-5 received a superior rating for the front crash prevention that it offers. Between the airbags and the head and seat restraints, you may walk away from an accident with barely a scratch on you. The same holds true for anyone else in your crossover too.
Side Crash Protection
No matter how careful you are behind the wheel, you cannot control all the other vehicles and drivers on the road. Someone can easily run a stop sign or a red light as you move through the intersection and strike the side of your vehicle. The CX-5 gets the same five-star rating for its side crash protection as it does for its front crash protection. Your airbags will deploy and provide the cushioning and support that you and your passengers need. The vehicle also has a cross traffic alert that lets you know when you might hit another car.
High Ratings
The IIHS rates the CX-5 as a small SUV and gives it high ratings in several key safety categories. It received a score of "A" for the latch system that child car seats use. This system offers the protection that your kids need and is easy to use. It received good ratings for its head and seat restraints and for its roof strength too. The strength of the roof protects everyone inside the vehicle during a rollover and ensures that the roof will not collapse. When you use the restraints inside your SUV, you can stay safe during both major and minor accidents.
Other Types of Protection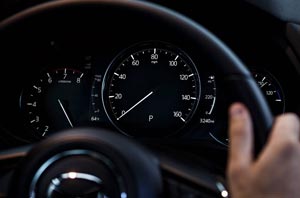 Mazda includes a host of other features on the 2019 CX-5 that will keep drivers and their passengers safe. Those features include integrated turn signals built right into the mirrors. When you need to make a turn, you can signal to others where you're going. A blind spot monitor helps you see anything and everything in your blind spot to let you know when it's safe to move. You'll also get traction control that keeps your SUV from skidding and running lights that come on during the day.
Get One of the Safest Vehicles on the Market Today
If you want a crossover or a small SUV that looks as good as it runs, there is no time like the present to test drive the CX-5 from Mazda. Visitors to our dealership can view that SUV in person and exam all the great safety features it has before taking off on a test drive. This vehicle is a Top Safety Pick and comes with brand new features that will keep drivers and riders safe. Schedule your CX-5 test drive today.