2011 Mazda 2 Introduction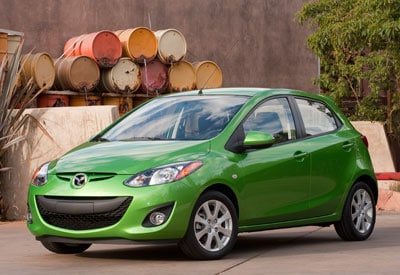 The 2011 Mazda 2 has been completely redesigned inside, outside and underneath. The all-new five-seat, front-wheel-drive subcompact was designed to take on a wide range of competitors, such as the Toyota Yaris, Nissan Versa, Ford Fiesta, Hyundai Accent, and Kia Soul and Rio.
First introduced in 2007, the Mazda 2 has been extremely successful, selling more than 400,000 units in Europe and Asia, and being named World Car Of The Year in 2008. Now, the U.S. market gets the third-generation Mazda 2 before any other market.
The styling is fresh and we find it arrestingly good-looking. Like all Mazda products of recent vintage, the 2011 Mazda 2 has been made to look much bolder and sportier than its previous incarnations. The body itself has been reshaped in a much more sporty fashion, with more sculpted sides, a laid-back windshield, and a jaunty little rear roof spoiler on one version. There's a new grille, hood, fenders, lamps, bumper and air intakes up front, with new body-colored door handles, new taillamps, a power liftgate, new 15-inch wheels, and exhaust system outlets at the rear. Underneath, there's a redone suspension and an improved braking system.
Under the hood, there is a single engine choice, a time-tested 1.5-liter double-overhead-cam 16-valve four-cylinder engine with variable valve timing to give it more flexibility in delivering low-rpm torque and high-rpm horsepower.
Fuel economy for the Mazda 2 is an EPA-estimated 28/35 mpg City/Highway.
Aiming for higher gas mileage without damaging the driving fun, Mazda focused on reducing weight with a vengeance, using a much higher ratio of high-strength steel in the body to lose 50 pounds, or 10 percent of the body's weight, with more welds and more weld-bonded adhesives in the body and its openings. And then they looked for hundreds of places to save a few pounds, like the wiring harness, the door locks and latches, the engine's radiator, the automatic transmission shifter, the pedals, and even the speakers in the stereo system. The final result was a car that weighs just a bit over 2300 pounds in basic form, a five-door hatch that is actually lighter than a two-seater Miata.
We climbed in and found the seats comfortable and supportive and we liked the thick, sporty steering wheel. Although rated as a five-seater, we wouldn't subject a fifth person to the back seat, the same as we wouldn't for any car in this class. The Mazda 2 is relatively roomy for four, though. Fold the rear seats down and it offers good cargo capacity with 27 cubic feet of cargo space and easy hatchback accessibility.
Out on the road, we found the Mazda 2 fun to drive. The little engine is gutsy, with a sporty note at upper revs. Shifting the manual five-speed is easy and enjoyable. The new brakes are responsive, with no annoying slack in the pedal travel. The new electric steering is responsive. The new suspension tuning minimizes body lean in corners yet ride quality is smooth and comfortable. It maneuvers rewardingly in tight driving situations, making it easy to park or thread through thick traffic.