2012 Mazda 2 Introduction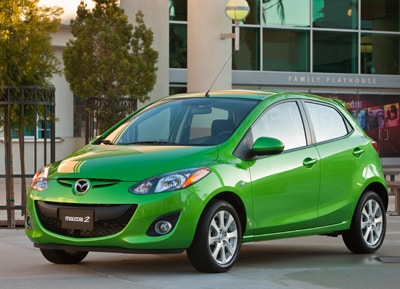 The Mazda2 is a five-seat hatchback, front-wheel-drive subcompact, taking on the Toyota Yaris, Nissan Versa, Honda Fit, Ford Fiesta, Chevrolet Sonic, Fiat 500, Hyundai Accent and Kia Soul. That's a wonderful field of cars for these times (subcompact is the fastest growing automotive segment in the world), and the Mazda2 has qualities that, to many, make it the most desirable of this bunch.
The Mazda2 was completely redesigned for 2011, so there are no changes for 2012. While new to North America, this is actually the second generation of the Mazda2. The first-generation model was an award-winning product in Europe and Asia.
The styling is fresh, and it's eye-catching in a cute sort of way. It's got a soft wedge shape, bold and sporty with sculpted sides, body-colored door handles, a laid-back windshield, sloped hatch and jaunty little spoiler on the Touring model. There's a grinning toothless grille with attractive hood, fenders, headlamps, bumper, air intakes and 15-inch wheels.
The Mazda2 uses a proven 1.5-liter double-overhead-cam 16-valve four-cylinder engine with variable valve timing to give it more flexibility in delivering low-rpm torque and high-rpm horsepower. It makes 100 horsepower at 6000 rpm and 98 pound-feet of torque at 4000 rpm. We had no trouble, in fact we had a blast, running in the fast lane with the 75-mph flow of Los Angeles freeway traffic. In 310 miles of combined city and highway driving, we averaged 34.8 miles per gallon, at the top end of the EPA estimate of 29 City/35 Highway mpg for the 2012 Mazda2.
In pursuit of good gas mileage, acceleration and responsive handling, Mazda focused on keeping the car light, by using high-strength steel with more welds (and less steel overall), and weld-bonded adhesives in the body. Engineers looked for dozens of places to save a few pounds, for example the wiring harness, door locks and latches, radiator, automatic transmission shifter, pedals, stereo speakers and more. It's this painstaking attention to mechanical detail that makes Mazda an exceptional car company.
The final result is 2306 pounds, even less than the two-seat Mazda MX5 sports car. It's the lightest subcompact, even lighter than the smaller Fiat 500, and way lighter than the Ford Fiesta, although the Toyota Yaris is a close second. The Yaris has 6 more horsepower, but is not nearly as much fun to drive.
The seats are comfortable and supportive, and we liked the thick, sporty steering wheel. Although rated as a five-seater, we wouldn't subject a fifth person to the back seat for long, but that's no different than any other car in this class. The Mazda2 is relatively roomy for four, though. Fold the rear seats down and it offers an excellent 27.8 cubic feet of cargo space, with easy access through the hatchback.
But mostly, the Mazda2 is way fun to drive. It zoom-zooms to scale. The little engine is gutsy, with a cocky tone at upper revs. Shifting the manual 5-speed is slick and easy. Responsive brakes and steering. Smooth ride and flat cornering. Quick turning, so it's a joy to park, or slice thick traffic.
When you look at the accessories available from Mazda for the Mazda2, you see what they think it's good for: a roof rack, roof basket, interior cargo box, bike rack, ski rack, snowboard rack, surfboard rack, and kayak carrier. Side sill extensions, in case you're thinking more hot rod.