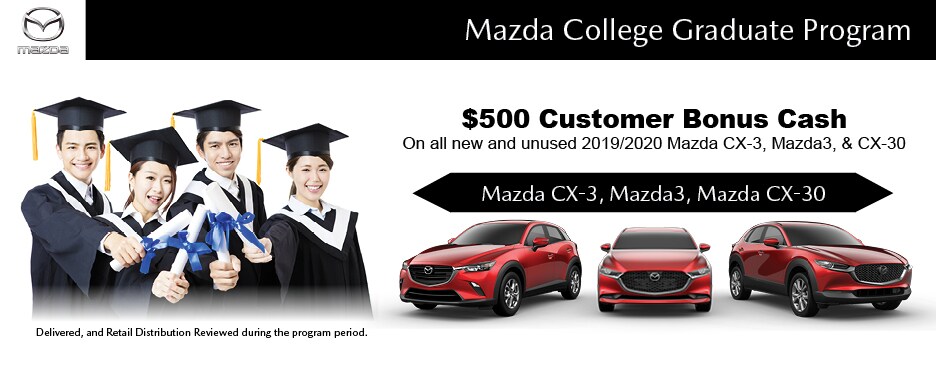 College Graduate Program
If you are graduating from a qualifying 2- or 4-year college within the next six months, or have graduated within the last 24 months, you may be eligible for the Mazda College Graduate Program. The Mazda College Graduate Program is intended to assist college graduates, who may not have sufficient credit history, to purchase or lease a new Mazda vehicle.
Who is Eligible?
Eligible students are within six months of graduation or who have graduated in the last 24 months as a Bachelor, Masters or Associate Degree from a U.S.-accredited 2- or 4-year college, graduate school, nursing school or trade school.
Applicants must provide proof of graduation - a copy of a diploma or current transcript for the student who will be graduating within the next six months.


Must provide a contact number for the school's registrar.


Individual applications only no derogatory credit history, past or present


The applicant must have proof of employment and income or proof from the future employer that shows a start date within 90 days of the current date with salary shown along with verbal verification from current or future employer.


What Can I Buy?
An eligible student can receive a $

500 Customer bonus Cash  good on all new and unused 2019 or 2020 model year Mazda CX-3, and 2020 model year Mazda 3 or Mazda CX-30 sold, delivered and RDR'd during the program period.
Contact us at Reliable Mazda to see how this program can help you lease or purchase a new Mazda vehicle*.
*Restrictions apply. Not all customers will qualify. The college graduate program is from 4/1/2020 - 6/30/2020

Make an Inquiry
Hours
Monday

8:00am - 8:00pm

Tuesday

8:00am - 8:00pm

Wednesday

8:00am - 8:00pm

Thursday

8:00am - 8:00pm

Friday

8:00am - 8:00pm

Saturday

8:00am - 6:00pm

Sunday

Closed