Review the 2016 Mazda CX-9 from Mazda Dealer in Springfield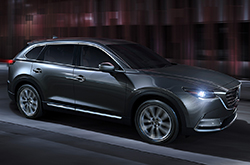 Edmunds.com reviews weren't lying when they called the 2016 Mazda CX-9 one of the sharpest-looking crossover SUVs of 2016. Indeed, it is very handsome. But other than its good looks, the Mazda CX-9 in Springfield, Missouri, is packed with top-tier technologies and fantastic features that once again are making it a popular pick among SUV shoppers in Springfield, Missouri. See for yourself in our 2016 Mazda CX-9 review below.
Since this seven-seater SUV was first introduced into the market nearly 10 years ago, it hasn't seen many changes. That's not the case anymore. For 2016, the Mazda CX-9 gets a major facelift and under the hood enhancements, as well.
Starting outside, the Mazda CX-9 in Springfield gets a new, trapezoidal grille - one that follows suite with the Mazda CX-5, Mazda6 and Mazda3 models, along with new LED headlights, leaner-looking taillights and an elongated hood. Updated wheel designs also add to the eye-catching appeal of the new Mazda CX-9.
Inside, the premium materials and decadent cabin design only add to the SUV's wow factor. Featuring a sleek new dashboard, enhanced components, well-appointed seats and more, this family-friendly SUV is sure to impress guests.
On the entertainment front, it gets a standard 7- or available 8-inch infotainment display, along with Mazda smartphone integration. Plus, you'll stay connected with the Mazda CX-9's two front and two second row USB ports.
Underneath the hood lies a 2.5L four-cylinder engine that produces 227 horsepower and 310 pound-feet of torque, paired with a six-speed automatic transmission. Front-wheel drive comes standard on the Mazda CX-9, while all-wheel drive is optional.
Safety-wise, the Mazda CX-9 is packed with world-class technologies, like radar cruise control, lane-keeping assist and departure warning, Smart City brake support, automatic high beam control, and distance-recognition support with forward obstruction warning.
For more information, continue reading our 2016 Mazda CX-9 review below. After you're finished, visit or call us to schedule your test drive today!