The 2012 Mazda 2 from Reliable Mazda is the symbol of dedicated automotive craftsmanship built to fit the needs of MO Mazda enthusiasts. Reliable Mazda is elated to present the 4-door 2012 Mazda 2 sedan. As your Springfield Mazda dealer, we hope you find our 2012 Mazda 2 reviews and research materials effective in finding the amenities, specifications and information you've been on the lookout for. View Reliable Mazda's new lineup of 2012 Mazda Mazda2 sedans.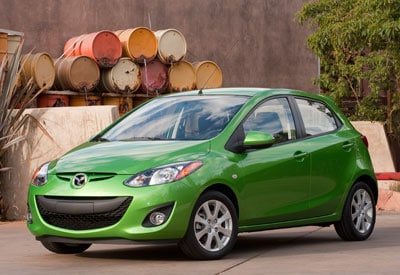 Reliable Mazda presents the 2012 Mazda 2 sedan
Consumers find that when they compare the 2012 Mazda 2 to other makes like the Toyota Yaris, Ford Fiesta, Nissan Cube and Chevrolet Sonic , the Mazda 2 shines as the most fun to drive. Take a look at our Quick List information below to see why!
The 2012 Mazda 2 has an starting MSRP of $14,370
The 2012 Mazda 2 gets 29 city / 35 highway MPG
The 2012 Mazda 2 goes from 0-60 MPH in 9.3 seconds
The 2012 Mazda 2 features 42.6 inches of legroom up front and 33 inches in back
The 2012 Mazda 2 features 39.1 inches of headroom in front and 37 inches in back
The 2012 Mazda 2 is 155.5 inches long, 66.7 inches wide and is 58.1 inches tall
The 2012 Mazda 2 weighs 2,306 pounds and has a turning radius of 16.1 feet
We know you'll like the Mazda 2 - visit Reliable Mazda in Springfield today!
A slow economy has bred one of the fastest growing vehicle segments in automotive history - the subcompact class. Small cars are now a big deal in the North American auto market - a sector formerly known for its love of large SUVs and Hummers. Vehicles like the 2012 Mazda 2 are changing the face of the industry, representing a growing trend toward smaller, more fuel-efficient cars that deliver intelligent design in an affordable, petite package. The small car segment is bursting at the seams with options, but the 2012 Mazda 2 trumps the Toyota Yaris, Ford Fiesta, Nissan Cube and Chevrolet Sonic with its innovative styling and Zoom-Zoom philosophy. While the subcompact was just introduced last year, it has already earned a spot on many "Best Cars" and "Top Ten" lists, and Mazda 2 reviews favorite the urban runner for its terrific fuel economy, impressive interior and sporty styling. With an MSRP of only $14,370, the 2012 Mazda2 is an ideal entry-level vehicle for any Springfield car shopper. Visit Reliable Mazda to find a new or used Mazda 2 for sale today!
The Mazda Demio is the Mazda 2's most direct ancestor. It was introduced in 1996 and was occasionally marketed globally as the Mazda 2. The North American model's forerunner earned the 2008 "World Car of the Year" title, securing its place in automotive annals across the globe. The Mazda2 was first introduced in European and Asian nations as a fun to drive subcompact car. It quickly became recognized as a uniquely styled performance vehicle that proved to be a striking element on city streets and highways. Around the same time, car buyers in the U.S. were becoming more and more interested in affordable hatchbacks after facing years of rising fuel prices and looming environmental threats. Bargain-priced "greenformance" cars tackled both of these issues head-on, and when the Mazda 2 finally appeared in North America in 2010, the 5-passenger, four-door subcompact hatchback was welcomed with open arms. Reliable Mazda in Springfield carries an extensive collection of 2011 and 2012 Mazda2 hatchback subcompact cars, built with the finest Mazda parts and highest quality mechanical engineering available today. Mazda 2 reviews absolutely rave about this dynamic "Zoom-Zoom Concentrated" car. Put some excitement back in your life and test drive Reliable Mazda's Mazda2.
Springfield Mazda shoppers can select between two available trim levels for the new model year: the entry-level Mazda2 Hatchback Sport and premium Mazda2 Touring. Both trims are equipped with a 100-horsepower 1.5-liter inline 4-cylinder engine that provides a surprisingly zippy driving experience you won't soon forget. The engine comes standard with either a 5-speed manual or a 4-speed automatic transmission. Visit Reliable Mazda to test drive the 2012 Mazda 2 in slick colors like True Red, Spirited Green, Aquatic Blue and Brilliant Black Clearcoat.
Mazda's small car is big on safety, flaunting an impressive set of cutting-edge features like: Mazda's Triple H body construction, side-impact door beams, ABS, Dynamic Stability Control (DSC), a Traction Control System (TCS), dual front airbags, front seat side airbags, side curtain airbags, crushable brake and accelerator pedal assembly, Electric Power Assist (EPAS) steering and second row LATCH child safety seat anchors. Last year, the Mazda Two was also the first vehicle launched in North America with Mazda's Brake Override system. This advanced technology prioritizes the brake pedal over the accelerator pedal, should both be engaged simultaneously, allowing the vehicle to be brought to a safe stop. Reliable Mazda values your well-being, and that's why we offer safety-conscious cars like the 2011 and 2012 Mazda2.
Packed with more features than the average small car, the 2012 Mazda2 Sport from Reliable Mazda includes comfort and convenience amenities like: an AM/FM/CD/MP3 stereo system featuring 4 speakers and an audio auxiliary jack, powered mirrors, windows and door locks, remote keyless entry, 15-inch steel wheels with full wheel covers, AC, a tilt steering wheel and much more! Springfield Mazda shoppers can also select available accessory packages with Mazda2 all-weather floor mats, a cargo net and Homelink.
The 2012 Mazda 2 Touring comes with all of the features and amenities included in the Sport model and adds terrific extras like: a chrome exhaust tip, leather-wrapped steering wheel with mounted audio and cruise controls, upgraded cloth seat fabric with sporty red piping, fog lights, 15-inch alloy wheels, a rear roof spoiler, a handy trip computer and a 6-speaker audio system.
Springfield car shoppers: get ready to be inspired by the responsive driving dynamics and fluidic motion of the new 2012 Mazda2 Touring. Reliable Mazda has an outstanding collection of these popular hatchback subcompact cars for you to choose from! Visit us today to learn about our latest Mazda incentives and lease options.
Cruising in a Mazda Mazda2 from Reliable Mazda makes MO driving undemanding, safe and exciting - all at the same time! This is why:
Reliable Mazda has a gigantic inventory of 2012 Mazda2 sedans with standard Mazda safety features like anti-lock brakes, traction control, driver airbags, passenger airbags, side airbags and more, making the 2012 Mazda 2 an NHTSA and IIHS favorite. In addition to these safety features, the 2012 Mazda Mazda2 can sufficiently seat up to 5 passengers. Trunk space with Mazda is never a worry; the Mazda2 can hold up to 13.3 cubic feet of your equipment, ensuring that your next vacation is hassle-free. To top it all off, the 2012 Mazda Mazda2 includes an incredible list of comfort and convenience amenities like powered windows, mirrors, doors and locks, climate control, AC and optional hands-free phone and navigation systems. Take a test drive at Reliable Mazda today and experience the Mazda Mazda2 for yourself.
The Mazda manufacturer's warranty covers the Mazda2 for manufacturing defects and has a 3 Years / 36,000 miles Mazda warranty. Mazda has worked for years to minimize its environmental impact; as a result, the Mazda 2's carbon footprint is minimal. Not surprisingly, with all of the Mazda2's advantages, this great Mazda sedan retains a high percentage of its value at 3 years and 36,000 miles, which makes the Mazda 2 a great used buy! When seeking a safe, stylish and economical sedan, Springfield Mazda enthusiasts should head to Reliable Mazda, located at in Springfield, MO
Mazda Mazda2 service information for Springfield
Mazda2 lessees and owners in Springfield have learned that Reliable Mazda at in Springfield is the very best choice for Mazda 2 warranty work, regular maintenance, inspections and mechanical repairs. At Reliable Mazda, Certified Mazda Technicians trained in the very latest corrective and diagnostic techniques work for one thing - your complete satisfaction. Whether it's time for your Mazda to have an oil change, air conditioning repair, or simply undergo Mazda 2 Scheduled Maintenance, Reliable Mazda is your first choice. Our Certified Mazda Techs also complete specialty jobs and repairs. Reliable Mazda is the smartest choice in Springfield for speedy, amicable and professional Mazda Service of all kinds.
If you'd like to make an appointment to have your Mazda2 serviced, click the link or just give us a call. Visit us today!