The 2012 Mazda6 from Reliable Mazda is the apotheosis of ardent automotive craftsmanship built to fit the needs of MO Mazda shoppers. Reliable Mazda is elated to present the 4-door 2012 Mazda6 sedan. As your Springfield Mazda dealer, we hope you find our 2012 Mazda6 reviews and research materials valuable in finding the features, specifications and information you've been searching for. View Reliable Mazda's new lineup of 2012 Mazda Mazda6 sedans.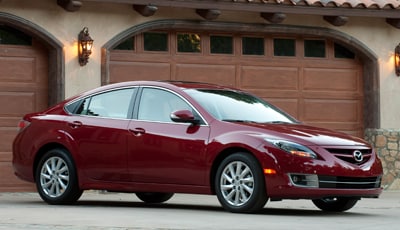 Reliable Mazda presents the 2012 Mazda6 sedan
Buyers find that when they compare the 2012 Mazda Mazda6 to other makes like the Toyota Camry, Nissan Altima, Honda Accord and Ford Fusion , the Mazda6 distinguishes itself as the most fun to drive. Look at our Quick List chart below to see why!
The 2012 Mazda6 has an starting MSRP of $20,240
The 2012 Mazda6 gets 21 city / 30 highway MPG
The 2012 Mazda6 goes from 0-60 MPH in 6.4 seconds
The 2012 Mazda6 features 42.5 inches of legroom up front and 38 inches in back
The 2012 Mazda6 features 38.1 inches of headroom in front and 37.3 inches in back
The 2012 Mazda6 is 193.7 inches long, 72.4 inches wide and is 57.9 inches tall
The 2012 Mazda6 weighs 3,574 pounds and has a turning radius of 17.7 feet
We know you'll like the Mazda Mazda6 - visit Reliable Mazda in Springfield today!
The all-new 2012 Mazda6 boasts a beautiful exterior, ample cabin space and several luxurious trims. Beyond its handsome looks, this popular sedan is also incredibly sporty and athletic. With an available V6 engine that generates 272 hp and 269 lb-ft of torque, the new 2012 Mazda6 from Reliable Mazda provides a partnership of quick acceleration and elegance. When it was time to release a more comfortable and larger version of the Mazda6 in 2009, the Japanese automaker came forward with a design that was family friendly, paired with a touch of edginess. Today, the Mazda6 easily maintains the balance between performance and practicality, making it a top choice over vehicles like the Toyota Camry, Nissan Altima, Honda Accord and Ford Fusion. The 2012 Mazda6 doesn't just have the X factor, it has the Zoom-Zoom factor, offering Springfield car shoppers a fresh alternative to the typical run-of-the-mill midsize sedan. To start, the 2012 Mazda6's body style is reminiscent of its sporty smaller version, the MAZDASPEED3. Additionally, there is no other car in its class that can match its bold visual styling and athletic stance. The Mazda6 is not just a passenger car; it is making a name for itself as a sports sedan.
The interior of the 2012 Mazda6 is quite impressive, with black canvas adorned with elegant wood accents, polished chrome and satin silver. The soft materials seamlessly blend together, creating a visually inviting cabin, perfect for Springfield Mazda shoppers who desire a sporty car with a lush interior. The electronics feature blacked out instrument faces with a touch of metallic markings, giving the Mazda6's interior a put-together look, creating a contrast between beauty and masculinity. A high-mounted stereo system and climate controls only enhance the already inviting interior. The large feel of the interior design adds an even roomier feel to the spacious 101.9 cubic feet of passenger volume. Headroom, sans moonroof, is a generous 39.4 inches, while the addition of the moonroof lowers the headroom to 38.1 inches. Visit Reliable Mazda to learn about the Mazda 6's unique set of features and package options. Also remember to ask one of our friendly representatives about the latest Mazda incentives and lease options.
All Mazda6 i trim levels at Reliable Mazda come standard with a sprightly 2.5-liter DOHC four-cylinder engine with 16 valves and Variable Valve Timing (VVT). Drivers also have the option of the available advanced five-speed automatic transmission that includes Adaptive Shift Logic, which will in time, learn the habits of the driver and compensate the shift pattern accordingly. This gearbox also features manual shift control for Springfield drivers who like to occasionally row through the ratios. Fuel mileage for this efficient four-cylinder engine is EPA-estimated at 30 mpg on the highway. The s Grand Touring and s Touring Plus versions of the Mazda6 come with upgraded engine in the form of a 24-valve 3.7-liter DOHC V6. Mazda's attention to weight savings with the Mazda6, combined with the sport inspired suspension, means that the car is also capable of carrying this speed through corners with confidence, racing past the competition.
Make sure you head down to Reliable Mazda to test drive the completely redesigned 2012 Mazda 6! The 6 is known for its four-cylinder option, available V6 power and its well-tuned suspension and chassis. And with its ample range of trim levels and enticing high-end features, this sedan is one of a kind!
Driving a Mazda6 from Reliable Mazda makes MO driving undemanding, safe and pleasurable - all at the same time! Here are the reasons why:
Reliable Mazda has a comprehensive inventory of 2012 Mazda Mazda6 sedans with standard Mazda safety features like anti-lock brakes, traction control, driver airbags, passenger airbags, side airbags and more, making the 2012 Mazda6 an NHTSA and IIHS favorite. In addition to these safety features, the 2012 Mazda Mazda6 can adequately seat up to 5 passengers. Trunk space with Mazda is never a worry; the Mazda6 can hold up to 16.6 cubic feet of your personal belongings, ensuring that your next vacation is hassle-free. To top it all off, the 2012 Mazda Mazda6 includes an impressive list of comfort and convenience extras like powered windows, mirrors, doors and locks, climate control, AC and optional hands-free phone and navigation systems. Take a test drive at Reliable Mazda today and experience the Mazda Mazda6 for yourself.
The Mazda manufacturer's warranty covers the Mazda6 for manufacturing defects and has a 3 Years / 36,000 miles Mazda warranty. Mazda has worked for years to minimize its environmental impact; as a result, the Mazda6's carbon footprint is minimal. Not surprisingly, with all of the Mazda6's advantages, this remarkable Mazda sedan retains a high percentage of its value at 3 years and 36,000 miles, which makes the Mazda Mazda6 a great used buy! When seeking a safe, stylish and economical sedan, Springfield Mazda shoppers should head to Reliable Mazda, located at in Springfield, MO
Mazda6 service information for Springfield
Mazda6 lessees and owners in Springfield have determined that Reliable Mazda at in Springfield is the very best choice for Mazda6 warranty work, regular maintenance, inspections and mechanical repairs. At Reliable Mazda, Certified Mazda Technicians trained in the very latest corrective and diagnostic techniques work for one thing - your complete satisfaction. Whether it's time for your Mazda to have an oil change, serpentine belt replacement, or simply undergo Mazda6 Scheduled Maintenance, Reliable Mazda is your first choice. Our Certified Mazda Mechanics also complete specialty jobs and repairs. Reliable Mazda is the smartest choice in Springfield for fast, considerate and professional Mazda Service of all kinds.
If you'd like to make an appointment to have your Mazda6 serviced, click the link or just give us a call. Stop by soon!