The 2012 Mazda CX-7 from Reliable Mazda is the perfect example of committed automotive craftsmanship built to fit the needs of MO Mazda buyers. Reliable Mazda is excited to present the 4-door 2012 Mazda CX-7 SUV. As your Springfield Mazda dealer, we hope you find our 2012 Mazda CX-7 reviews and research materials helpful in finding the elements, specifications and information you've been looking for. View Reliable Mazda's new lineup of 2012 Mazda CX-7 SUVs.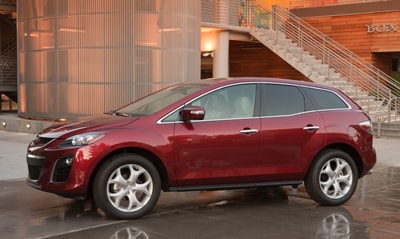 Reliable Mazda presents the 2012 Mazda CX-7 SUV
Consumers find that when they compare the 2012 Mazda CX-7 to other makes like the Subaru Forester, Kia Sportage, Hyundai Tucson and Toyota RAV4 , the Mazda CX-7 sets itself apart as the most fun to drive. Look at our Quick List chart below to see why!
The 2012 Mazda CX-7 has an starting MSRP of $21,990
The 2012 Mazda CX-7 gets 20 city / 28 highway MPG
The 2012 Mazda CX-7 goes from 0-60 MPH in 8.5 seconds
The 2012 Mazda CX-7 features 41.7 inches of legroom up front and 36.4 inches in back
The 2012 Mazda CX-7 features 39.7 inches of headroom in front and 39.3 inches in back
The 2012 Mazda CX-7 is 184.3 inches long, 73.7 inches wide and is 64.8 inches tall
The 2012 Mazda CX-7 weighs 3,496 pounds and has a turning radius of 18.5 feet
We know you'll fall head over heels for the Mazda CX-7 - visit Reliable Mazda in Springfield today!
Now you can tote the family around town and enjoy off-road adventurers using the same vehicle. The new 2012 Mazda CX-7 is a fierce combination of rugged utility and high performance. The unique midsize crossover has become a favorite among Springfield Mazda shoppers, blending out of the box looks with the performance-oriented ride of a sports car and the five-passenger practicality of an SUV. Car and Driver said it best: "The CX-7 has been a Car and Driver crossover favorite since its debut in 2006 - lots of style, respectable power and road manners worthy of the Zoom-Zoom tagline." With its reactive steering, precision handling and passenger coddling interior, CUVs like the Subaru Forester, Kia Sportage, Hyundai Tucson and Toyota RAV4 just can't compete with the 2012 CX-7. It is the perfect addition to any family's driveway, and with an MSRP of only $21,990, it is a terrific value for families on a budget. The new 2012 Mazda CX-7 is a prime example of the high-level design innovation that Mazda has become known for in the automotive sector. Visit Reliable Mazda to find out what Mazda CX-7 reviews have been raving about!
The Mazda CX-7 is the production version of the original MX-Crossport concept car. The crossover was introduced at the Los Angeles Auto Show in 2006 and was distributed in the 2007 model year shortly after its debut. Mazda blurred the line between sports car and SUV with the CX-7's unique styling and radically responsive turbocharged engine. Even the most skeptical and conservative of Springfield auto buyers were impressed by CX-7 Mazda reviews and specs. The crossover's sporty aesthetic and Zoom-Zoom ideology attracted a wide segment of the car buying population and made the CX-7 incredibly successful. Its aerodynamic exterior caught the attention of modern urbanites, while its large passenger capacity and safety ratings made it a terrific catch for suburban families. Visit Reliable Mazda to find a new or used Mazda CX-7 for sale and learn about our latest Mazda incentives and financing options!
Springfield Mazda shoppers are invited to come check out the award-winning CX-7 in five well-equipped trim levels: the CX-7 i SV, CX-7 i Sport, CX-7 i Touring, CX-7 s Touring and the ultra-premium CX-7 s Grand Touring. Each of these models is available at Reliable Mazda in either FWD or AWD, and features glamorous colors like Black Cherry Mica, Copper Red Mica and Brilliant Black Clearcoat.
Reliable Mazda knows that safety is a top concern when on the road. The 2012 Mazda CX-7 is the perfect option for safety-conscious families as it is built with a plethora of the latest cutting-edge security features from Mazda. In addition, the CX-7 also has terrific crash test scores and safety ratings. Last year, the NHTSA gave the 2011 Mazda CX-7 top 5-star scores for protection in all seating positions in frontal and side crash tests, as well as a 4-star rollover score, while the IIHS gave the CX-7 top scores of "Good" in frontal offset and side impact tests. Reliable Mazda is proud to offer Springfield drivers the new 2012 Mazda CX-7 - an SUV that you and your loved ones can count on for a safe ride.
Come test drive the new 2012 CX-7 at Reliable Mazda and see why Kelley Blue Book wrote, "The CX-7 excels in the areas of handling, braking, acceleration and overall ride comfort." Even at the base level, the sporty compact SUV offers power and refinement. The base CX-7 comes with a 161-horsepower 2.5-liter 4-cylinder engine that pumps out 161 pound-feet of torque and is matched with a five-speed automatic. The high-performance crossover goes from 0-60 in an impressive 7.5 seconds. Also available is a 2.3-liter DISI (Direct Injection Spark Ignition) turbo engine that features 244 horsepower and 258 pound-feet of torque for the best in responsive acceleration and power. Handling and braking in the 2012 CX-7 is assisted by 4-wheel ventilated disc brakes with standard anti-lock brakes, stability control and traction control, a fully independent suspension and a choice of front wheel drive or Mazda's Active Torque-Split all-wheel drive system.
The 2012 Mazda CX-7 is a terrific option over premium-brand crossovers like the Audi Q5 and the Acura MDX for two reasons: performance and value. For a whole lot less, the Mazda CX-7 FWD i SV base model delivers both, so you don't have to dip into your kid's college fund to afford a luxury CUV. The i SV from Reliable Mazda in Springfield features 17-inch alloy wheels, cruise control, fully powered accessories, keyless entry, AM/FM/CD player with 6 speakers and an audio input jack, air conditioning and a tilt-and-telescoping steering wheel.
The 2012 Mazda CX-7 FWD i Sport from Reliable Mazda adds privacy glass, Bluetooth and a leather-wrapped steering wheel and shift knob. A Convenience Package is available for the Mazda CX-7 AWD i Sport and FWD i Sport and adds to the SUV's prodigious list of amenities with automatic AC, heated front seats, a sunroof, trip computer and rearview camera. The Convenience Package comes standard with the Mazda CX-7 i FWD Touring and adds leather upholstery, a navigation system and a Bose audio system featuring 9 speakers.
The upscale Mazda CX-7 FWD s Touring and the Mazda CX-7 FWD s Grand Touring (both available in AWD) feature all of the comforts and conveniences of the "i" models, but adds or replaces a turbocharged engine, 18-inch wheels, an eight-way powered driver's seat, leather interior and heated front seats. The 2012 Mazda CX-7 AWD s Grand Touring adds and replaces the s Touring with: 19-inch wheels, heated mirrors, fog lamps, Mazda's Advanced Keyless Entry and Start System, Bluetooth compatibility, the Blind-Spot Monitoring System and a Multi Informational Display (MID) with electroluminescent gauges.
Owning a Mazda CX-7 from Reliable Mazda makes MO driving comfortable, safe and pleasurable - all at the same time! This is why:
Reliable Mazda has a large stock of 2012 Mazda CX-7 SUVs with standard Mazda safety features like anti-lock brakes, traction control, driver airbags, passenger airbags, side airbags and more, making the 2012 CX-7 an NHTSA and IIHS favorite. In addition to these safety features, the 2012 Mazda CX-7 can adequately seat up to 5 passengers. Trunk space with Mazda is never a worry; the CX-7 can hold up to 29.9 cubic feet of your equipment, ensuring that your next journey is hassle-free. To top it all off, the 2012 Mazda CX-7 includes an exceptional list of comfort and convenience features like powered windows, mirrors, doors and locks, climate control, AC and optional hands-free phone and navigation systems. Take a test drive at Reliable Mazda today and experience the Mazda CX-7 for yourself.
The Mazda manufacturer's warranty covers the CX-7 for manufacturing defects and has a 3 yr./ 36,000 mi. Mazda warranty. Mazda has worked for years to minimize its environmental impact; as a result, the CX-7's carbon footprint is minimal. Not surprisingly, with all of the CX-7's advantages, this quality Mazda SUV retains a high percentage of its value at 3 years and 36,000 miles, which makes the Mazda CX-7 a great used buy! When seeking a safe, stylish and economical SUV, Springfield Mazda buyers should head to Reliable Mazda, located at in Springfield, MO
Mazda CX-7 service information for Springfield
Mazda CX-7 lessees and owners in Springfield have found that Reliable Mazda at in Springfield is the very best choice for CX-7 warranty work, regular maintenance, inspections and mechanical repairs. At Reliable Mazda, Certified Mazda Technicians trained in the very latest corrective and diagnostic techniques work for one thing - your complete satisfaction. Whether it's time for your Mazda to have an oil change, air conditioning repair, or simply undergo CX-7 Scheduled Maintenance, Reliable Mazda is your first choice. Our Certified Mazda Technicians also complete specialty jobs and repairs. Reliable Mazda is the smartest choice in Springfield for swift, amicable and professional Mazda Service of all kinds.
If you'd like to make an appointment to have your CX-7 serviced, click the link or just give us a call. See you soon!