Reliable Mazda is excited to be the primary point for the Mazda RX-8 in Missouri. Reliable Mazda is a Springfield Mazda dealership and carries a enormous inventory of New Mazda RX-8 and top quality, high value used Mazda RX-8s and other cars & trucks.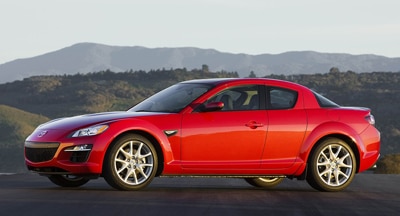 When consumers compare the Mazda RX-8 to other makes like the Hyundai Genesis Coupe, Nissan 370Z, and Mitsubishi Eclipse , the 2012 Mazda RX-8 shines as the most fun-to-drive. Starting with the 2011 Mazda RX-8, owners found this affordable coupe's crisp handling and lively acceleration to be reason enough to choose.
You'll really like the Mazda RX-8 affordable sports car when you go shopping at Reliable Mazda in Springfield
The 2011 Mazda RX-8 highlights heart-pounding excitement and the power of a 232-hp RENESIS rotary engine with the inspired performance of a much more expensive sports car. With an MSRP of just $26,645, the Mazda RX-8 delivers more than the Hyundai Genesis Coupe, Nissan 370Z, and Mitsubishi Eclipse in terms of quality performance, styling, and amenities. The 2011 RX-8 features a one-of-a-kind "suicide door" design, a roomy backseat, and impressive handling; the "suicide" freestyle door design allows easy access to the rear seat for passengers and cargo alike. The successor to the popular RX-7, Mazda's brilliant new design creates one of the only 4-dr coupes on the market and the only production vehicle in the U.S. to feature a rotary engine. 2011 Mazda RX-8 reviews like this one from Motor Trend showcase the RX-8's unbelievable performance capabilities: "The free-revving, corner-carving RX-8 placed higher than a Porsche 911 Turbo and Mitsubishi Lancer Evolution MR in our 2008 Best Handling Car competition." Enough said; stop by Reliable Mazda in Springfield to browse our large selection of 2011 Mazda RX-8 vehicles and put yourself into an affordable small car that delivers in a big way on performance and equipment.
Mazda introduced rotary engine vehicles in the U.S. in 1971, beginning with the R100. But what is a rotary engine, and how does it work? A rotary engine is often referred to as a "Wankel engine," after its inventor Dr. Felix Wankel, and is a type of internal combustion engine that utilizes a triangular rotor spun around a fixed pinion by the use of a ring gear to produce smooth, high-power rpm from a compact size motor. Mazda has utilized this exceptional technology in vehicles like the fun to drive Mazda RX-8 Shinka and standard model RX-8s to produce a sports car that is lightweight and generates high horsepower with little displacement. Recently, Mazda North American Operations and Skip Barber Racing School LLC announced a new, long-term partnership agreement that promised to reshape the world of competitive motorsports, proving that great innovations like the rotary engine and the Mazda RX-8 are here to stay. Reliable Mazda has excellent Mazda deals on the new 2011 RX-8 for Springfield area drivers in the mood for some Zoom-Zoom!
The Mazda RX-8 is available in three Trim Levels for the 2011 model year: the Mazda RX-8 Sport, RX-8 Grand Touring, and the sleek and stylish RX-8 R3. All three Trims from Reliable Mazda in Springfield are available in intense colors like Velocity Red Mica, Sparkling Black Mica, and Liquid Silver Metallic.
All 2011 Mazda RX-8 Trim Levels come standard with a 1.3 liter RENESIS two-rotor rotary engine that produces 232-hp at 7,500 rpm. Beyond the engine, the 2011 RX-8 from Reliable Mazda features a torque-sensing conical limited-slip differential, Bilstein shock absorbers, and Recaro front sport leather and cloth-trimmed seats. All models except the Mazda RX-8 Coupe R3 (manual only) are available with either a 6-speed manual or 6-speed automatic transmission.
Keep in mind that Mazda safety is very important to Reliable Mazda, and the RX-8 is no exception; the 2010 Mazda RX-8 earned four of five stars for driver protection and five stars for front-passenger protection in frontal crash tests conducted by the federal government. It also earned four stars for front and rear safety in side crash tests, as well as a rollover rating of five stars. Springfield drivers can feel safe in their new model year RX-8 with great safety features like ABS, front side airbags, seat-mounted side impact airbags, curtain airbags, and Mazda's Dynamic Stability Control with TCS.
The Mazda RX-8 Sport from Reliable Mazda comes well-equipped in true Mazda fashion. The 2011 RX-8 Sport includes features like steering wheel-mounted paddle shifters with Adaptive Shift Logic, 18-inch aluminum-alloy wheels, dual chrome tailpipe garnish, and powered doors and rear LED taillights. In addition, the Mazda RX-8 Sport features amenities like: AC, an AM/FM/CD stereo system with 6-speakers and an auxiliary input jack, cloth trimmed upholstery and door panels, cruise control, steering wheel-mounted cruise and audio controls, powered windows and locks, and a leather-wrapped steering wheel and shift knob. Be sure to ask a representative from Reliable Mazda about special Mazda incentives and Mazda pricing options on your brand new 2011 RX-8 Sport!
The Mazda RX-8 Grand Touring from Reliable Mazda in Springfield features upgrades like: Xenon headlights, fog lights, Homelink, a powerful Bose audio system with 6-CD changer, automatic air conditioning, leather seating, heated front seats and outside mirrors, Mazda's Advanced Keyless Entry and Start system, Bluetooth capabilities, and a DVD satellite navigation device.
For the tops in sports car performance, check out Reliable Mazda's 2011 Mazda RX-8 R3. This rotary-powered machine features a rear spoiler, side sills, fog lights, Xenon headlights, a sporty front bumper, and 19-inch forged aluminum-alloy wheels. The 2011 R3 includes the interior amenities of the Sport and Grand Touring but adds or replaces a Bose audio system with Centerpoint surround sound and AudioPilot noise compensation technology, a Bluetooth hands-free phone system, Recaro sports seats, and a leather-wrapped parking brake. For the best deals on a new Mazda RX-8 R3 or a variety of other 2011 Mazda cars, visit Reliable Mazda in Springfield today!
Here's why the Mazda RX-8 should be your number one affordable sports car in delightful MO
Reliable Mazda offers the Mazda RX-8, a 4-door coupe which seats 4 people comfortably. The RX-8 weighs 3,064 pounds, is 175.6 inches long, 69.7 inches wide, 52.8 inches high, and the Mazda RX-8's turning radius is 17.4 feet. surprisingly roomy for its class, the RX-8 has 38.2 inches of headroom in the front, as well as 42.7 inches of legroom. In the RX-8's back seat, there are 36.8 inches of headroom and 32.2 inches of legroom. Need to bring a lot of luggage on your next trip? The RX-8 trunk holds up to 7.6 cubic feet of your gear. So, take it easy and enjoy!
Standard Mazda safety features included in the RX-8 are: traction control, anti-lock brakes, side airbags, driver airbags, side-impact bars, seat-belt pre-tensioners, and passenger airbags. With all of these features, the Mazda RX-8 is always highly rated by the IIHS and NHTSA.
The RX-8 also has an abundance of comfort and convenience features including: power steering, remote locks, power windows, power mirrors, climate control, cruise control, air conditioning, power seats, an adjustable steering wheel, and more! Especially convenient are the available hands-free phone and navigation systems. Test drive the Mazda RX-8 in Springfield at Reliable Mazda.
Like all Mazda cars & trucks, road handling and performance are top priorities for the RX-8. Passing horsepower in the base RX-8 is 228 bhp @ 8200 rpm, and it produces excellent torque - 156 ft lb @ 5500 rpm foot pounds/rpm. The RX-8 accelerates rapidly from 0 to 60 mph in just 6.8 seconds. If you want to go fast, the RX-8 has a top speed of 146 miles per hour. Despite this excellent power train output, the Mazda RX-8's fuel economy is rated at 16 miles per gallon in the city and 22 highway miles per gallon. With a fuel tank capacity of 16.9 gallons, the RX-8 cruising range is well above average, truly making it a performance car!
The Mazda manufacturer's warranty covers the RX-8 for manufacturing defects and has a 3 Years / 36,000 miles Mazda warranty. Mazda has worked for years to minimize its environmental impact, and the RX-8's carbon footprint is rated very low. Not surprisingly, with all of these RX-8 advantages, this great Mazda coupe retains a high percentage of its value at 3 years and 36,000 miles, which makes the Mazda RX-8 a great used buy!
When seeking a safe, economical, sporty and stylish coupe, Springfield consumers should head to the Mazda dealer of choice, Reliable Mazda at 438 S. Ingram Mill Rd in Springfield MO.
Mazda RX-8 service information for Springfield
Mazda RX-8 owners and lessees in Springfield have found that Reliable Mazda at 438 S. Ingram Mill Rd in Springfield is the very best choice for RX-8 warranty work, regular maintenance & inspections, and mechanical repairs. At Reliable Mazda, Certified Mazda Technicians trained in the very latest diagnostic and corrective techniques work for only one thing - your complete satisfaction. Whether it's time for your Mazda to have an oil change or tire rotation, or if you need regular RX-8 Scheduled Maintenance, Reliable Mazda is your first choice. Wheel alignments are another specialty of our Certified Mazda Techs, and here at 438 S. Ingram Mill Rd, we are the smartest choice in Springfield for quick, courteous, and professional Mazda Service of all kinds.
If you'd like to make an appointment to have your RX-8 serviced, click the link or just give us a call. See you soon.