Reliable Mazda is electrified to be the leading venue for the Mazda Tribute in Missouri. Reliable Mazda is a Springfield Mazda dealership and carries a vast inventory of New Mazda Tribute and top quality, high value used Mazda Tributes and other cars & trucks .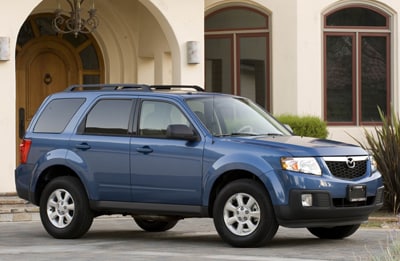 When shoppers compare the Mazda Tribute to other makes like the Chevrolet Equinox, GMC Terrain, Volkswagen Tiguan, and the Toyota RAV4 , the 2012 Mazda Tribute shines as the most fun-to-drive. Starting with the 2011 Mazda Tribute , owners found this affordable SUV's crisp handling and lively acceleration to be reason enough to choose.
You'll really like the Mazda Tribute affordable compact suv when you browse Reliable Mazda in Springfield
The 2011 Mazda Tribute is a hearty combination of high quality performance and fun to drive capability all rolled into an affordable compact SUV. The rugged 2011 Tribute is a go-anywhere kind of vehicle with a wealth of storage space and some of the best safety ratings of any SUV in its class. In fact, the IIHS gave the Mazda Tribute a top score of "good" in front, side, and rear crash protection tests, while the NHTSA gave the Tribute an outstanding 5-Star crash-safety rating. With the new Mazda Tribute, you get to power up without paying up; available 2.5 liter 4-cylinder or 3.0 liter V6 engines provide a sporty ride, and with an MSRP of $20,555, you don't have to break the bank to own a reliable 2011 Tribute. The same can't be said about the Chevrolet Equinox, GMC Terrain, Volkswagen Tiguan, and the Toyota RAV4. Visit Reliable Mazda in Springfield for a test drive in a brand new 2011 Mazda Tribute ? the smart choice SUV.
The Mazda Tribute debuted in 2001, offering front or all-wheel drive and a choice of a transversely-mounted 2.0 liter Ford Zetec 4-cylinder engine or a 3.0 liter Ford Duratec V6. Ford and Mazda had a close relationship in those days, so much so in fact, that the Tribute shared a platform with the Ford Escape and continues to do so today. The Tribute was manufactured to replace the Mazda Navajo as a strong contender in the FWD and 4WD SUV segment. Offering a variety of comfort and convenience features while maintaining its rugged exterior sensibility led Mazda to continually introduce new interior amenities while the exterior was left relatively unchanged. New and used Mazda Tribute SUVs from Reliable Mazda offer a mix of style and versatility perfect for daily driving, light hauling, or even traveling on irregular terrain.
New model year Mazda Tribute SUVs are available in 4 unique Trim Levels for 2011: the Tribute i Sport, Tribute i Touring, Tribute i Grand Touring, and the Tribute s Grand Touring. In addition to the aforementioned Trims, the Tribute Hybrid, offered in California only, runs on a 2.5 liter 4-cylinder engine with an electric motor. Reliable Mazda in Springfield offers the new Mazda Tribute in colors like Ingot Silver, Sangria Red, Tuxedo Black, and White Suede.
The Mazda Tribute is an affordable compact SUV known for its sporty handling, carlike ride, surprising V6 performance, and rewarding value for the money. Nothing has changed in this respect; the 2011 Mazda Tribute continues to offer superb performance with all "i" models coupled to a 2.5 liter 4-cylinder engine. MacPherson struts in front and multi-link struts in the rear ensure that each wheel responds independently to road conditions to increase the sure-footedness of the vehicle. Tribute's Triple H Body Construction adds to the SUV's sporty handling and responsive feel. The Tribute from Reliable Mazda in Springfield is roomy and comfortable on the inside, stylish and practical on the outside, and fun to drive!
The introductory level Mazda Tribute i Sport is loaded with great interior comfort and convenience features like: AC, powered windows and doors, remote keyless entry, a tilt steering wheel, a 60/40 split fold-down rear seatback, separate opening flip-up tailgate window, carpet floor mats, a Tribute cargo mat, 16-inch alloy wheels, an AM/FM/CD stereo system with 4 speakers that is SIRIUS Satellite Radio compatible, and much more! The Tribute i Sport from Reliable Mazda has a wide variety of extras that appeal to drivers across the board and will make your next trip a comfortable one.
If you are looking for an SUV with an adventurous spirit, test drive a Tribute i Touring from Reliable Mazda. The i Touring maintains the features of the previous model, but adds a roof rack for extra storage space, privacy glass, a 6-way powered driver's seat, a cargo cover, and 7-speaker audio system with a 6 CD changer.
The fully loaded "s" and "i" Grand Touring Trim Levels improve upon the Touring with special luxury extras like heated mirrors and front seats, a sunroof, leather-wrapped steering wheel and upholstery, complimentary SIRIUS Satellite Radio, and an auto-dimming rearview mirror. The Tribute s Grand Touring from Reliable Mazda comes standard with a V6 engine as opposed to the 2.5 liter 4-cylinder, and highlights a towing prep package.
To add to the 2011 Tribute's affordable nature, Insure .com recently ranked the least expensive 2010 vehicles to insure, and the Tribute garnered a "Low Cost Insurance Award," which exponentially increases the value of the SUV during your time of ownership. 2011 Mazda Tribute reviews are in, and this SUV is without a doubt a safe, affordable, and ultimately enjoyable vehicle for Springfield area drivers of any persuasion, so browse Reliable Mazda's large inventory of Mazda Tribute SUVs and ask about special Mazda financing and pricing options today.
The reasons why the Mazda Tribute will be your prized affordable compact suv in fascinating MO
Reliable Mazda offers the Mazda Tribute, a 4-door SUV which seats 5 people pleasantly. The Tribute weighs 3,272 pounds, is 174.9 inches long, 71.1 inches wide, 67.9 inches high, and the Mazda Tribute's turning radius is 18.3 feet. exceedingly spacious for its class, the Tribute has 40.4 inches of headroom in the front, as well as 41.6 inches of legroom. In the Tribute's back seat, there are 39.2 inches of headroom and 35.6 inches of legroom. Need to bring a lot of luggage on your next trip? The Tribute trunk holds up to 31.4 cubic feet of your cargo. So, take a breather and enjoy!
Standard Mazda safety features included in the Tribute are: traction control, anti-lock brakes, side airbags, driver airbags, side-impact bars, seat-belt pre-tensioners, and passenger airbags. With all of these features, the Mazda Tribute is always terrifically rated by the IIHS and NHTSA.
The Tribute also has an abundance of comfort and convenience features including: power steering, remote locks, power windows, power mirrors, climate control, cruise control, air conditioning, power seats, an adjustable steering wheel, and more! Especially convenient are the available hands-free phone and navigation systems. Test drive the Mazda Tribute in Springfield at Reliable Mazda.
Like all Mazda cars & trucks, road handling and performance are top priorities for the Tribute. Passing horsepower in the base Tribute is 171 hp @ 6000 rpm, and it produces excellent torque - 171 ft-lbs. @ 4500 rpm foot pounds/rpm. The Tribute accelerates quickly from 0 to 60 mph in just 8.5 seconds. If you want to go fast, the Tribute has a top speed of 122 miles per hour. Despite this excellent power train output, the Mazda Tribute's fuel economy is rated at 23 miles per gallon in the city and 28 highway miles per gallon. With a fuel tank capacity of 16.5 gallons, the Tribute cruising range is well above average, truly making it a performance car!
The Mazda manufacturer's warranty covers the Tribute for manufacturing defects and has a 3 Years / 36,000 miles Mazda warranty. Mazda has worked for years to minimize its environmental impact, and the Tribute's carbon footprint is rated very low. Not surprisingly, with all of these Tribute advantages, this great Mazda SUV retains a high percentage of its value at 3 years and 36,000 miles, which makes the Mazda Tribute a great used buy!
When seeking a safe, economical, sporty and stylish SUV, Springfield shoppers should head to the Mazda dealer of choice, Reliable Mazda at 438 S. Ingram Mill Rd in Springfield MO.
Mazda Tribute service information for Springfield
Mazda Tribute owners and lessees in Springfield have found that Reliable Mazda at 438 S. Ingram Mill Rd in Springfield is the very best choice for Tribute warranty work, regular maintenance & inspections, and mechanical repairs. At Reliable Mazda, Certified Mazda Technicians trained in the very latest diagnostic and corrective techniques work for only one thing - your complete satisfaction. Whether it's time for your Mazda to have an oil change or tire rotation, or if you need regular Tribute Scheduled Maintenance, Reliable Mazda is your first choice. Wheel alignments are another specialty of our Certified Mazda Techs, and here at 438 S. Ingram Mill Rd, we are the smartest choice in Springfield for quick, courteous, and professional Mazda Service of all kinds.
If you'd like to make an appointment to have your Tribute serviced, click the link or just give us a call. See you soon.